this piece was featured on the january 17, 2008 broadcast of late night with conan o'brien!!! delightfully surreal it was, too...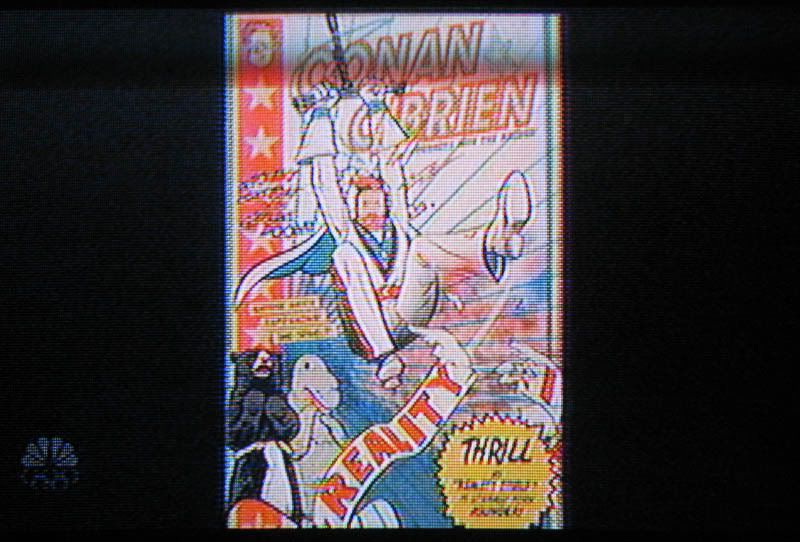 (what follows is my original e-mail to conan, wherein i detailed my ZIPLINE VISION)

i hope this isn't too high concept (please ignore the following nonsense and go straight to the picture link if you like)...

AND LO, MAY IT COME TO PASS,
EITHER IN THIS MANNER OR ELSE
A MANNER ENTIRELY CONTRARY TO IT,
THAT HIS MAJESTY of LATE NIGHT CONAN O'BRIEN
(HEREAFTER TO BE KNOWN SIMPLY AS "HIS MAJESTY")
SHALL SLIP THE BOUNDS OF GROSS REALITY
AND ENTER INTO THE PANTHEON OF
THE ETERNAL ABSURD
(HEREAFTER TO BE KNOWN SIMPLY AS "THE ABSURDLY AWESOME"):

(LOUD TAPPING SOUNDS)

Conan: HARK!

Max: What is it Conan?

Conan: Can you hear that?

(EXTREMELY LOUD TAPPING SOUNDS)

Max: Hear what, Conan?

Conan: Nevermind. Such a sound is clearly beyond the ken of mortal men! -It calls ME, however! I must go to it now!

(IN THE YEAR 2000 THEME PLAYS)

(LASER LIGHTS, SMOKE HELMET, ETC. ACTIVATED; His Majesty is quickly fitted into a snazzy action jumpsuit and cape)

(special guest may or may not respond from the stage at this point, i don't know why.)

(ZIPLINE TIME, possibly accompanied by ragtime music, confetti cannons, the masturbating bear and/or the horny manatee, miniaturized grand canyons, volcanoes, etc.)

AT THE END OF HIS DESCENT, HIS MAJESTY Conan O'Brien rips through a large paper ribbon emblazoned with the words "REALITY ITSELF"; he is winded from the strenuous journey...

...when Abraham Lincoln walks up and hands him a pair of magical tap-shoes.

(THEY DANCE A HAPPY JIG TOGETHER.)

Lincoln: What have we learned here tonight, Mr. O'Brien?

Conan: The IMPOSSIBLE IS POSSIBLE, Mr. Lincoln.

Lincoln: So it is, so it is.

I shall remain in your rememberances of me. Simply click your heels; I am forever for the dance.

Conan: Gosh.

...

Ok, then.

(THEY SHAKE HANDS; Lincoln tips his hat and takes a step back.)

HIS MAJESTY Conan O'Brien clicks his heels together and is whisked back to the present. (This is illustrated with a high-speed, reversed clip of the earlier zipline descent.)

(insert satisfying resolution here, perhaps a wisecrack to Max or something. then: cut to commercial bumpers...)

THE END

AGAIN, FOR TO PICTURE IT ALL IN THY MIND'S EYE (or at least the spirit of it all):

http://themonkeymind.livejournal.com/21290.html

thank you very much,
mp

***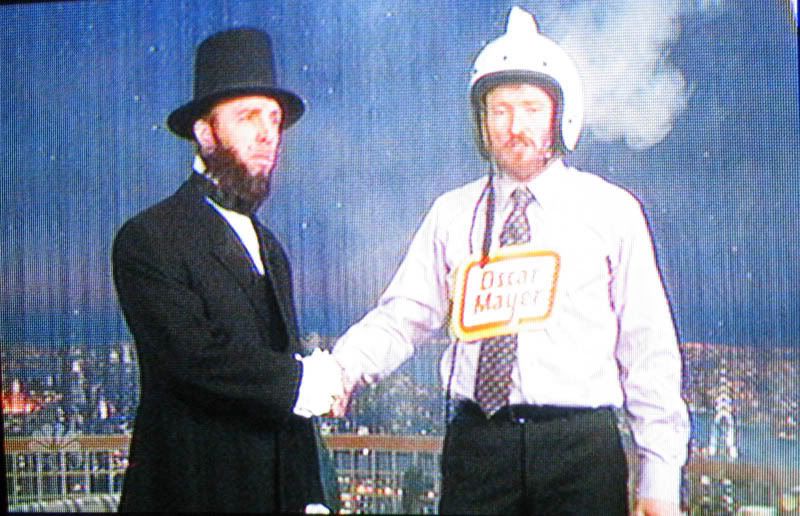 ...conan didn't seem all that into my idea of him zip-lining through a banner emblazoned with the words "reality itself," but i'd like to think at least two elements of my scenario came through with the handshake and the "happy jig" he danced with abraham lincoln. ;) in any case, it's pretty surreal to send in something in the morning and then see it pop up on tv that same night! delightfully surreal, indeed. thank you, mr. o'brien!

p.s. also, sorry about the crotch shot. it was unavoidable, really.