Recently, after literally years of imagining what they might be like, I was finally able to get my hands on a few volumes of Osamu Tezuka's original Monkey King manga (ぼくの孫悟空)...




...and oh, what treasures they contain!




Here, in Tezuka's typically cheeky fashion, Popeye is cast in the role of a Heavenly Hitman (sent to smack some sense into the mischievous Monkey King)!

Aside from the simple, irreverent glee I get out of seeing this sort of Mad magazine-styled character mashup*, I find the juxtaposition fascinating on a number of other levels as well. If I can be forgiven for partaking in a little armchair analysis, I can't help but wonder if maybe Tezuka was confronting some choice moments from his own past here...on the page and on the chin!




First we have this rather unequivocal statement from Tezuka himself, which might cast these panels in a slightly different light: "My career as an animator began when at the age of four I copied a picture of Popeye."

What are we to make, then, of the way Popeye has just been summarily dispatched? Is Tezuka-sama saying something about his career as an animator here as well?

Then there is this equally intriguing note about the young Tezuka (already bullied about by his classmates for his slight figure and various unconventional traits):

When he was younger, Tezuka's arms swelled up and he became ill. He was treated and cured by a doctor which spurred him on to study medicine at Osaka University (...which in turn led to the medical adventures explored in his Black Jack manga, but that's another story...).

...That which does not destroy me, eh?

Add to these amusing coincidences Tez's autobiographical account of being roughed up by a drunken American soldier after the war...and an enticing little psychomachia begins to emerge, I think...(if I'm not mistaken, he'd already toyed around with drawing a militaristic Mickey Mouse at this point...)

I'm guessing it must have been fairly cathartic to draw those punches, in any case. :)

The Monkey King connections seem to go deeper still, though. Much is made of Tezuka's debt to Disney animation in the development of his personal cartooning style (he claimed to have watched Bambi around 80 times, for instance, and his rounded, big-eyed cast of characters certainly show the influence of this), yet the crucial turning point in Tezuka's creative life appears to have come earlier, with his exposure (in 1942) to the Chinese animated film Princess Iron Fan (铁扇公主).


(The full film is available at archive.org)

The 1989 animated biopic Tezuka Osamu Story: I am Son-Goku recounts Tezuka's deep fascination with the Iron Fan film and presents it- and his psychological identification with the Son-Goku character in it -as triggering factors behind his drive to become a cartoonist.


[Part 1][Part 2][Part 3][Part 4][Part 5][Part 6][Part 7][Part 8]

Although Tezuka is understandably best known around the world for his beloved Astro Boy character, I think the Son-Goku material (which began to be serialized at roughly the same time as Astro Boy, in 1952, and ran parallel with it for almost a decade) offers an interesting sidenote to his career and development as an artist. Tonally, at least, there seems to be a distinction: while Tetsuwan Atomu first came to life playing the part of "Ambassador," the plucky little Monkey King is shown here revelling outright in his role as a firestarter.

Of note also is the fact that (though his actual level of involvement with it appears to have been rather minimal) Tezuka's first professional foray into the world of animation apparently came in 1957, when Toei Productions brought in the popular manga-ka to oversee their feature-length animated effort...retelling the story of the Monkey King! (西遊記 Saiyuki, lit. "Journey to the West")



Astro Boy came next (minus the annoying Frankie Avalon sing-a-longs), to much greater success overseas.

...The rest, as they say, is history.

I can only hope the ever-growing appreciation of Tezuka's manga in the states will eventually lead to English editions of these Son-Goku stories. I'm personally biased towards them, of course (monkey freak that I am), and probably somewhat ill-informed as well, but something about them seems special to me regardless. While they aren't quite as structurally innovative or thematically daring as some of Tezuka's later works, I think these pages nonetheless contain a really compelling sense of joy and adventure...

-Anyway, sharing is caring, y'all! Enjoy.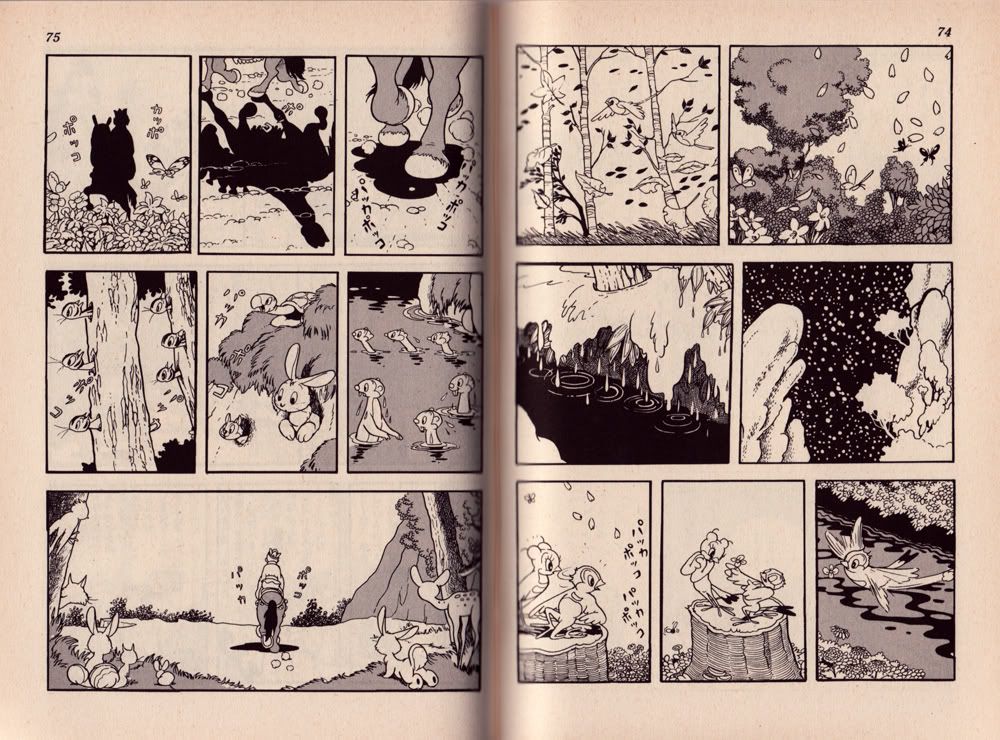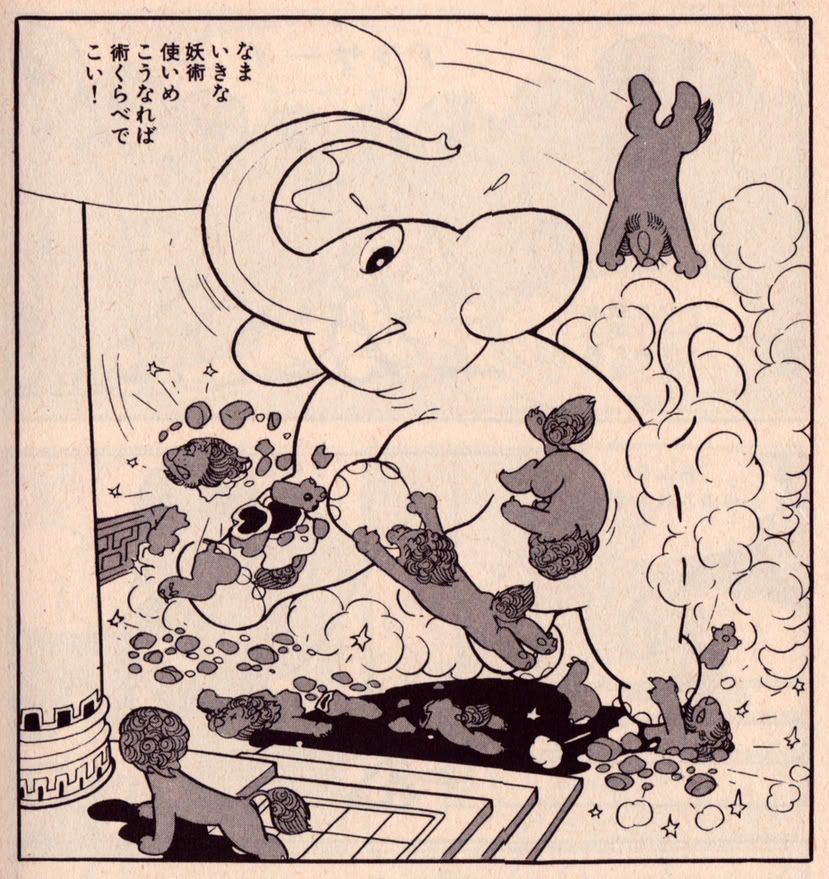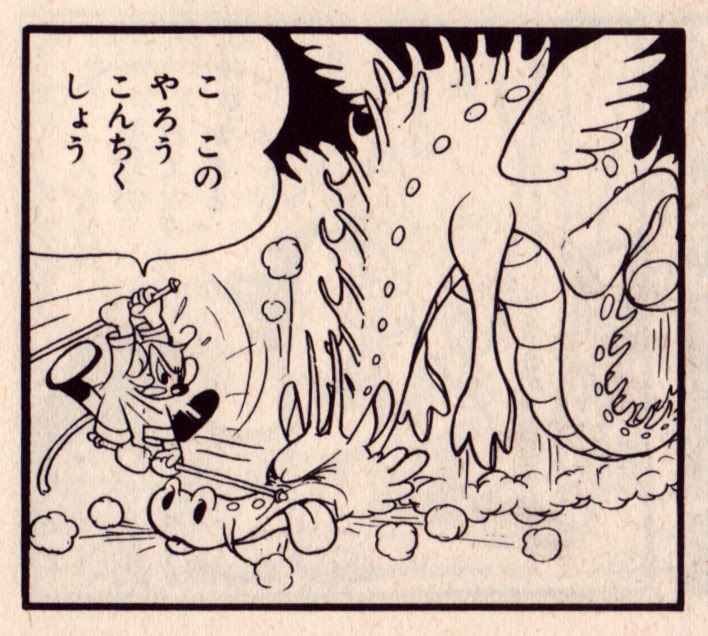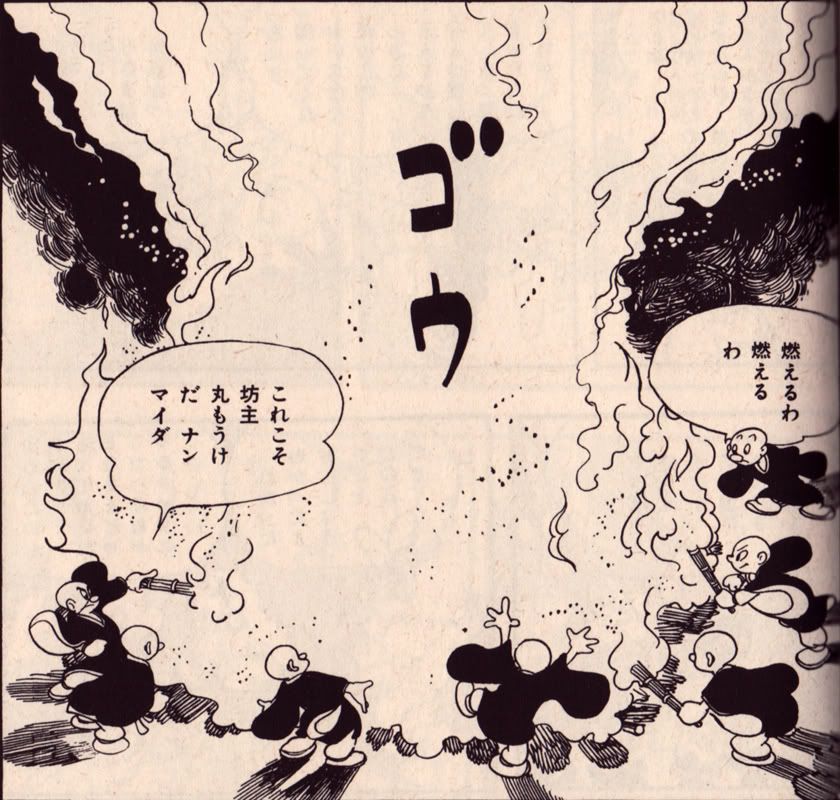 *The mashup effect here is similar to that found in Chip Kidd's trippy Bat-Manga collection, which- for those of you who splurged on the hardcover edition -contains a choice cameo or two from our handsome monkey king as well! (For more zany Popeye action, see also: Dragon Lives Again!)