"To a god the wisdom
of the wisest man
sounds apish. Beauty
in a human face
looks apish too.
In everything
we have attained
the excellence of apes."
-Heraclitus,
On Nature





"The center of the artistic process—for me—is the attempt to transform a particular feeling, insight, sorrow into a metaphor and then make that metaphor ramify so it holds everything, everything in the world."

"If you actually examine the relationship between real life and fiction, you'll find that we most often predicate our real lives upon fictions that we have applied from somewhere."

"Once you get analyzing something and looking into it, things do begin to appear and things do begin to tie in. Because everything ties in, and what you get depends on your approach to it."



There is a long story behind this comic, and only some of it is true or worth repeating. I was aiming to make a strange, hermetic, fugue-state statement with it, an OMIC if you will, but despite hard work and assurances...it was all more or less destined for the void, printwise. Looking back upon it (from the distance of nearly a year now), the result is less a cave of wonders, and more a cave of wanders. I do wonder if Reality Hunger or even Dodgem ("Colliding ideas to see what happens") Logic had been around at the time whether my case might have been bolstered, but the past is past, prologue and epiphany. *Pop* goes the easel.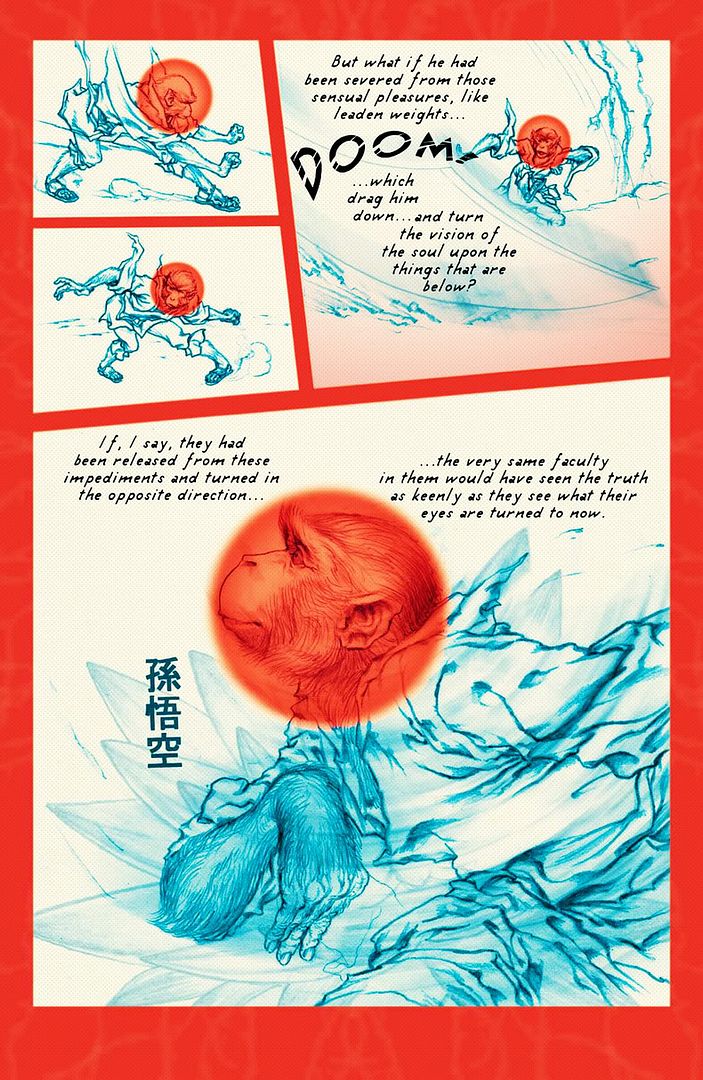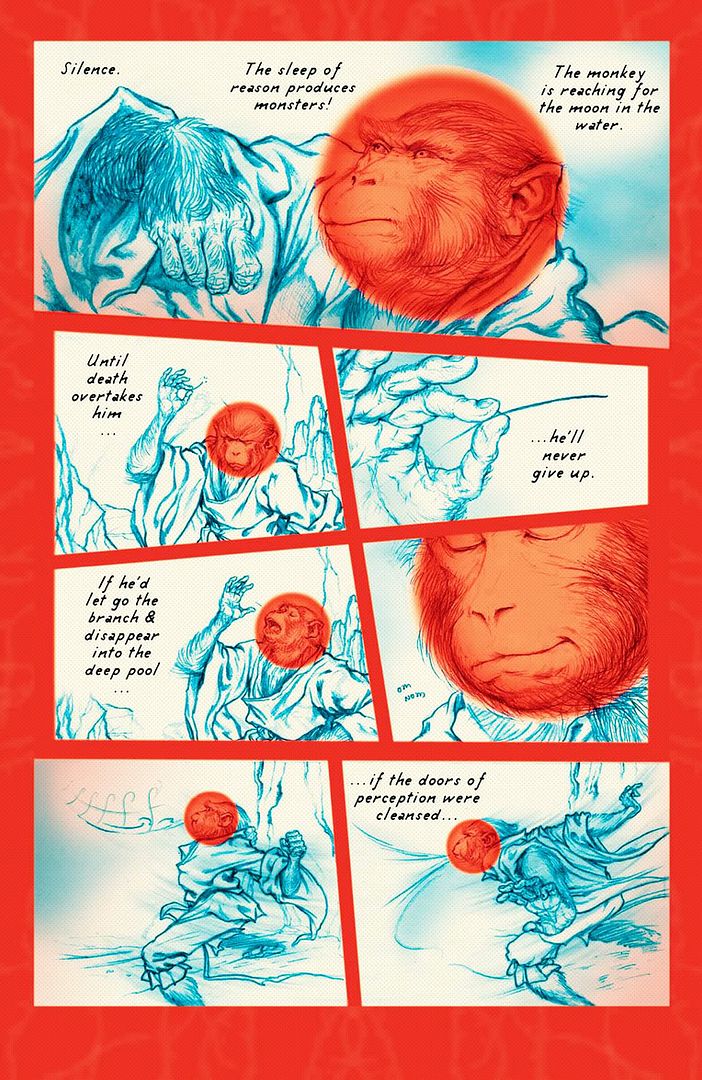 ∞∞∞

...Should you wish to go spelunking further, here are some open sesames...



= DE NATURAE SIMIA =

- THE MONKEY & THE MAGIC LANTERN -

PATAPHOR + METAPHOR of the SUN + ALLEGORY of the CAVE + CAVE (ART) + C.A.V.E. (VR) + APEIRON + IRON APE + ONEIROI + ANAMNESIS + ANALEMMA + HANUMAN & THE SUN DILEMMA + SUN WUKONG & THE HAVOC IN HEAVEN + HAKUIN & THE MOON-MONKEY KOAN + THE MONKEY MIND



= MR. SUN-APE X SUPER-MAN =

- OUROBOROS -
+ MIMESIS + MOBIUS + BIOCOENOSIS + METRON & THE MOBIUS CHAIR + METATRON + METATRON'S CUBE + McCLOUD & THE MIND'S EYE + THE BLINK OF AN EYE + CYCLOPS + TRICLOPS + SEPHIROT

日 / 目



= ARS SIMIA NATURAE =

VITRIOL (BACKRONYM)
VOXEL + VISION + THE ORIGINAL FACE
+ fMRI + FUGUE + THE FUGUE STATE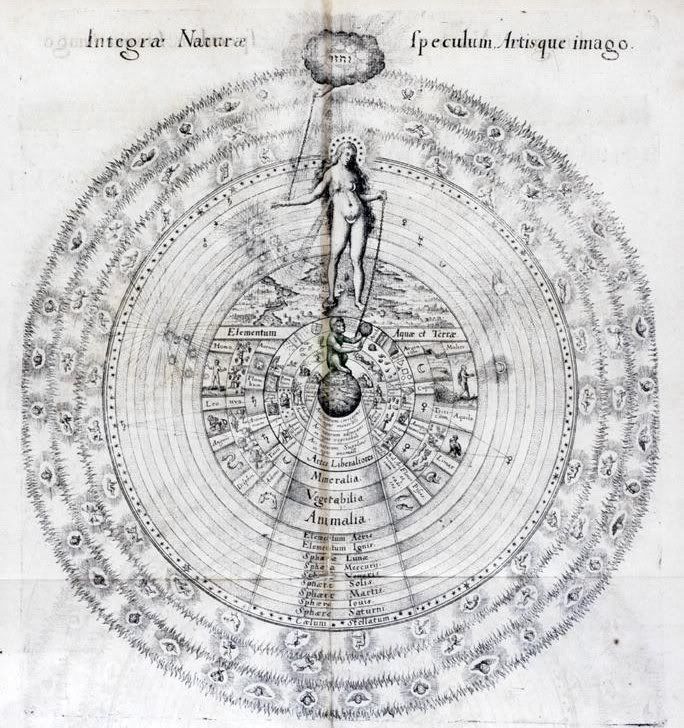 = INTEGRA NATURA =

∞∞∞

-POSTSCRIPT-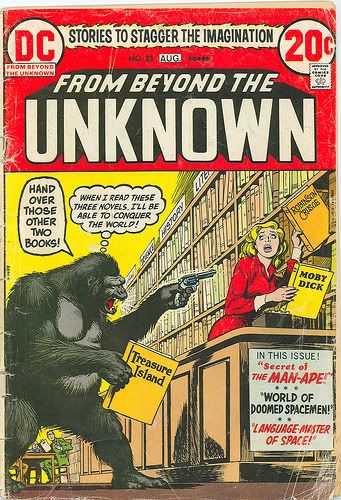 PLAYING THOSE (MONKEY) MIND GAMES FOREVER

Imagine my surprise to see the following turn up at the local comic shop, just a few weeks after handing off my 'pataphor pages: Sonic the Hedgehog suddenly teaming up with the Monkey King (a.k.a. "Monkey Khan")- on planet MOBIUS, no less! Zoinks!




A PUZZLE of PERPETUAL MOTION
(Eternal Returns to Mr. Heraclitus)

Similarly amusing to me was this crossword, which came in the mail the week I was scrambling to finish...




The NYT Crossword for 5.24.2009

-SO-


SOIL + SOL + SOUL

YOU & EYE
&
SO∞ON

ॐ